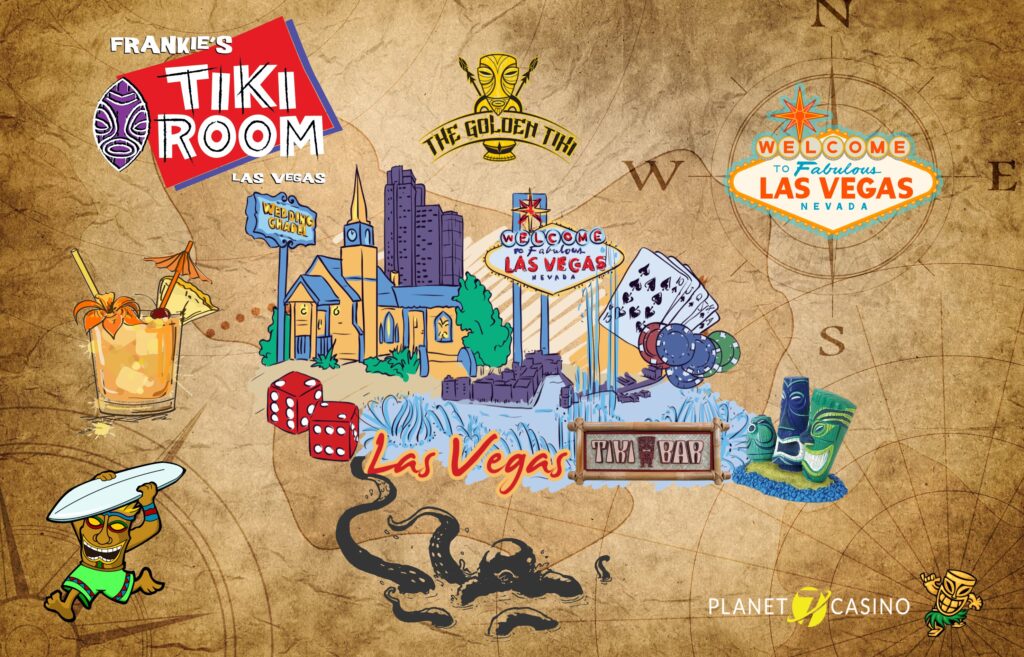 Sin City, Lost Wages, the Entertainment Capital of the World. Las Vegas has a global reputation as a gambling mecca and a vice vacation springing out of the Nevada desert like a forbidden oasis.
But this Desert Disneyland isn't only about gambling. Over the decades, savvy casino moguls doubled down to invest in lavish resort destinations for the whole family. Kids can ride rollercoasters or ziplines between megaresorts while their parents dine in Michelin-starred restaurants below. With all the shows, food, and circuses running 24/7/365, you don't have to gamble to have fun in Vegas.
Enter the tiki bar. The Polynesian Pop island-themed cocktail bars of the 30s and 40s have made a huge comeback recently, thanks in part to Las Vegas. And what better place to serve up a brimming bowl of booze than in a lavishly kitsch jungle in a desert oasis? Morning Mai Tai, anyone?
Tiki Bars in Las Vegas
If it's kitsch and overblown, it finds a happy home in Las Vegas. Sin City boasts a sea of giant fountains in the desert, faux volcanos belching clouds of steam, light, and music amid rollercoasters, megaresorts, and glass pyramids. In all this glitz and glamour, the humble tiki bar is right at home.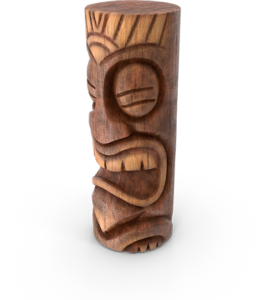 Filled with hand-carved pagan idolatry and island escapism, Vegas does tiki bars on a massive scale. With billions flowing around Vegas daily, some of that money was splashed out to form the perfect Polynesian Pop paradise.
Some of these exotic bars are hidden away in buildings that look like strip malls or abandoned 50s diners. But step inside and you'll be blown away by the sheer magnitude of the tiki bar experience. Come immerse yourself in the ultimate escape, born in exotic islands and transmogrified into hallowed halls of Hawaiian hooch.
But how did the tiki bar become a thing? Stick we us, intrepid adventurer. A quick trip through tiki bar history will prepare you for the best Vegas tiki bars. Armed with this knowledge, you'll soon be able to sort the pearls from the shells.
The Cult of Tiki
Riding on a wave in a sea of cocktails post Prohibition, the first tiki bars appeared in the 30s and 40s. With names like Don the Beachcomber and Trader Vic's, early tiki bars took all the trappings of Polynesian paradise and chucked them into custom-built bars. Wall-to-wall bamboo adorned custom-built wooden A-frame buildings, and the entire space was literally jammed to the rafters with wooden idols, outrigger canoes, sailing nets, and velvet paintings of island girls in grass skirts (and not much else).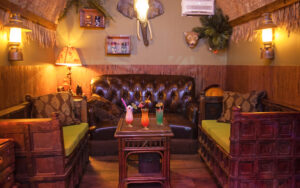 Add to that some moody lighting, lounge music, and potent potions served in ceramic mugs with grinning and grimacing tiki gods, and you've got the perfect recipe for a tropical escape.
Back in the 40s, American soldiers returned from active duty in far-flung tropical islands with visions of paradise dancing in their heads—wearing grass skirts. In the age of commercial aviation, early jetsetters tasted the exotic fruit of distant tropical destinations. As the American economy exploded in the 50s, the tropical escape fantasy grew with it.
Tiki bars offered exotic escapism for every budget, with no jetlag or mosquito bites involved. Soon the tiki bar concept expanded globally, with Trader Vic's chains appearing in hotels and holiday huts everywhere. Many copycats jumped on the outrigger and sailed into the tiki tides. By the 1950s, many homes fashioned their own exotic décor in the form of home tiki bars. Big band lounge music oozed from spinning vinyl ala Martin Denny, Les Baxter, Arthur Lyman, and other composers of tropical tunes for easy listening. Add bongos, jungle sounds, and island rhythms, and the illusion is complete. This musical movement became known as Exotica.
Tiki Bar Decline and Revival
While tiki bars sailed seamlessly along with the vibrant, psychedelic 60s, they fell out of fashion in the 70s and 80s. All but a few die-hard tiki temples remained, most of them bearing the names of original franchises like Trader Vic's.
Tiki fans noted with sadness the demolition of their tiki temples as they were replaced with megalithic temples to the new gods of consumerism: shopping malls and fast-food drive-thru windows. At one point nearly every major city in the US had a tiki bar before the wave broke, receded, and left only pearly shells as mementos.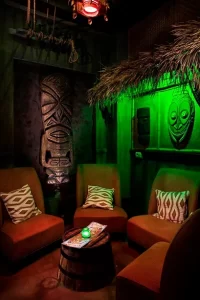 A new form of art was developed during the rise of tiki. Polynesian pop art, lavish, hand-carved tiki totems, and myriad tropical paintings emerged. One man literally wrote the book on tiki: Sven Kirsten. A cinematographer by trade, Sven took it upon himself to gather the remaining mementos and monuments of tiki culture as a tribute. The result is a tome of tiki from 'urban archaeologist' Sven Kirsten.
His first book, The Book of Tiki, is the comprehensive guide to all-things tiki. Splashed from cover to cover with images and stories of island tiki carvings, exotic art, and lost menus from demolished tiki bars, this book is a must-have for all tiki enthusiasts. Kirsten also wrote The Art of Tiki and Tiki Pop, and the books chronicled a sudden revival of the tiki bar.
The mighty tiki bar came back with a vengeance. Call it nostalgia for exotic escapism or neo-tiki love. A new generation began embracing the carved kitsch of tiki décor, digging the mellow sounds of tiki music, and imbibing the potent potions of the tiki gods yet again.
The Best Tiki Bars in Las Vegas
There are dozens of 'beach bars' in Vegas. But slapping a surfboard into a sandbox and chucking beach furniture into a shack does not a tiki bar make. True tiki bars aren't decorated; they're curated. Classic tiki bars are filled to bursting with hand-carved idols, furniture, and bric-a-brac, in a design which evolves with time as the mementos are added. But in Vegas, baby, tiki bars turn up the dial to 11.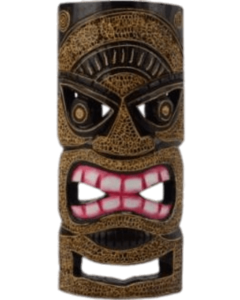 Master craftsmen and artisans hand carved everything from giant tiki idols down to wooden walkways over ponds in the middle of the bar. Volcanos rumble and lighting flashes along with storm sounds, and every nook and cranny of the space is filled with collectibles, curios, and mementos of all things tropical. A true tiki bar feels like you're walking into an archaeological dig site. With a stereo.
Many of the past masters of tiki décor have passed away, but many new artisans have taken their place, crafting tiki mugs, carving tikis of all shapes and sizes, and even designing entire bars. These days, any tiki bar worth its rum will have hundreds of collectible mugs and hand-carved tikis from bygone days.
So, ditch the beach bar and dive into a jungle of adventure in the following tiki bars in Las Vegas. All of them have the prime ingredients to shake up a wickedly potent potion amid a lavishly fun and kitschy environment.
Frankie's Tiki Room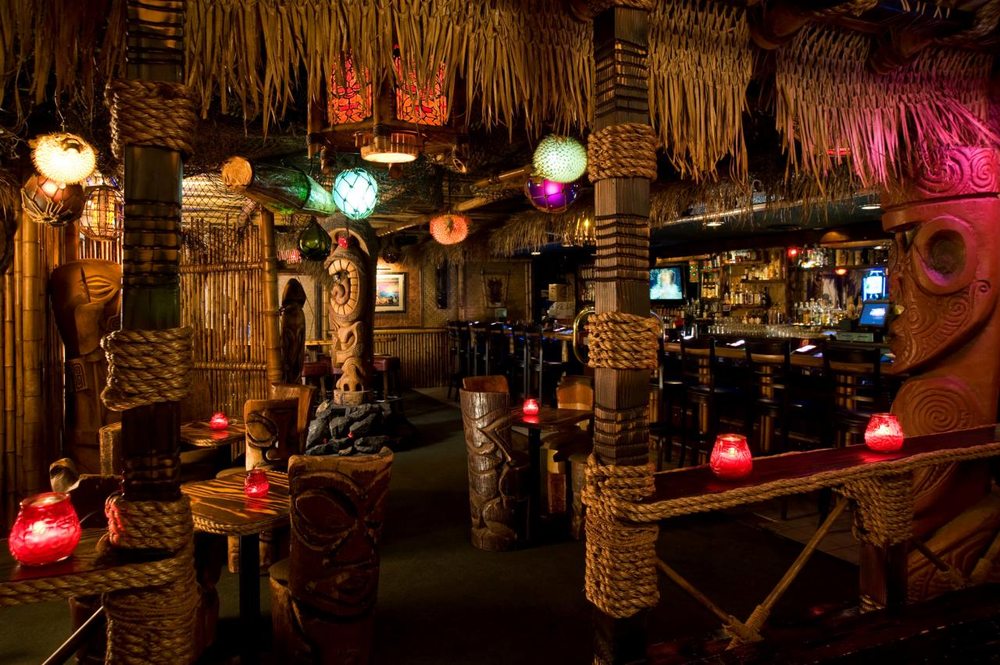 Don't judge a book by its cover. Frankie's Tiki Room at 1712 W. Charleston may look like an abandoned Mexican restaurant from the outside, but the interior is packed to the rafters with tiki treasures. Step out of the desert sun into Frankie's and you will be instantly teleported to a tropical island paradise. Tiki fans will agree: Frankie's Tiki Room is the Real Deal.
Tons of tikiness tickles your island fantasy. Legendary craftsmen filled Frankie's with hand-carved tiki idols and hand-made bamboo and wooden furniture. Lounge among original artwork and carvings by renowned artists like Shag, Bosko Hrnjak, and Leroy Schmaltz. Hundreds of tiki mugs past and present bedeck the bar, and you can take home souvenir mugs of all shapes and sizes—for a reasonable price.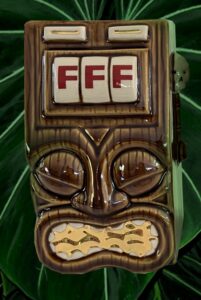 Many mugs tip the hat to classic tiki designs, while our favorite mug beautifully blends booze and betting in the Tiki Bandit mug. One of Frankie's signature drinks, Tiki Bandit, is served in a mug magically morphed into part tiki idol, part slot machine. Standing tall over the bar, a giant tiki idol holds a pair of cards, and a special casino section beckons all bettors.
You can also imbibe classic tiki drinks based on original recipes from Trader Vic and Don the Beachcomber. Order a Mai Tai, a Navy Grog, Zombie, or a Fog Cutter, all served in unique tiki mugs bedecked with umbrellas and fruit garnish. Or sip suave signature drinks made with craft rums, liqueurs, and Frankie's original recipes.
Located in the medical district of Las Vegas, Frankie's is the place you go to fill your prescription when your doctor orders you to put the lime in the coconut and drink it all up. Frankie's Tiki Room is located conveniently close to the Las Vegas Strip, so tiki fans should definitely make Frankie's a side trip.
Rating: 5 out of 5 tikis

Frankie's Tiki Room
1712 West Charleston
Las Vegas, NV 89102
702-385-3110
The Golden Tiki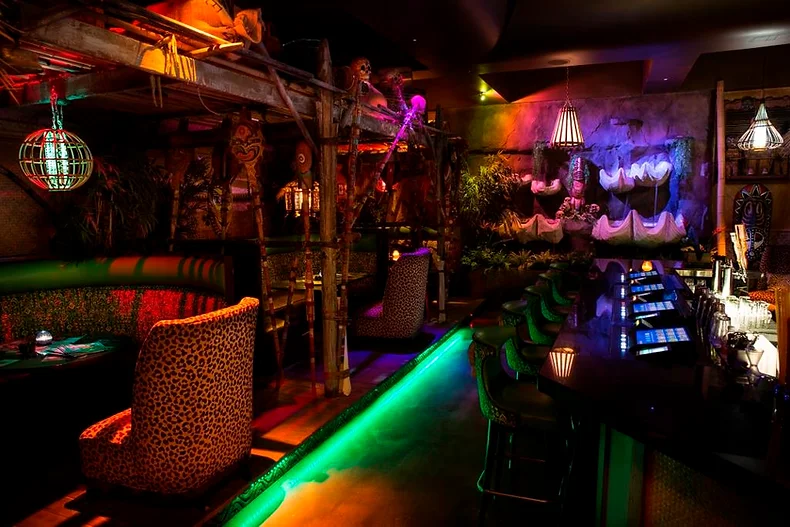 Like Frankie's, The Golden Tiki is all about the interior. Located in a strip mall a few miles from The Strip, The Golden Tiki's low-key exterior looks more like a Chinese restaurant than a full-on tiki bar. But step inside, intrepid adventurer, and prepare to have your mind blown.
Tiki décor has two basic variations. There's the wall-to-wall bamboo jungle shack jammed with tiki idols and curios, and there's the nautical theme. Think pirates, smugglers cove, creaky old ships, and treasure maps.
The Golden Tiki takes the nautical theme to the next level—then right over the top. Waterfalls trickle down giant shells jutting out of a wall, a dancing skeleton jigs and swears at you while drops of water splash you as you drink in a corner below the cascade.
Like Frankie's, The Golden Tiki employed top Polynesian Pop prodigies to design, build, carve, and decorate the entire bar. Artist and designer Tiki Diablo, whose sole job is designing tiki bars globally, lent his genius (and hammer and chisel) to create a breathtaking bar festooned with everything a pirate could dream of, rum barrels and all. The Golden Tiki is a dreamlike enchanted grotto for swilling rum and sharing tall tales of adventure and misadventure.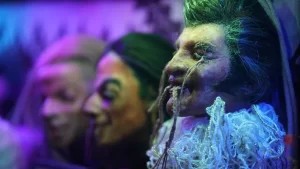 Female bartenders in Hawaiian dresses set your potent potion ablaze with a lighter, and bursts of fire briefly blast light into the darkest corners. A skeleton DJ fills a back room with tiki tunes, and rows of shrunken heads line the walls along the hallway to the restrooms. Look closely at the shrunken heads and you'll soon recognize that most of them are famous people associated with Vegas in some way. Search among the eerily realistic shrunken heads for the Rat Pack and the Rolling Stones. Wait. Keith Richards looks the same in real life.
Ask a bartender about any of the curios and mementos and they will point out a bamboo shrine taken from Disney's Enchanted Tiki Room, props from Pirates of the Caribbean, or a knife owned by the late Hunter S. Thompson. This joint is more than a bar; it's a swashbuckling soiree aboard a pirate ship sailing on a sea of rum in search of Treasure Island.
Open 24 hours, you can fill your rum barrel any time the need takes you. Check their Facebook page for regular live events, guest DJs and bartenders, and burlesque shows. The Golden Tiki also offers a midday happy hour with $5 Mai Tais and a free mini buffet of Chinese tidbits. You can also purchase mugs and other tiki collectibles at the bar or via their online shop.
Rating: 4 out of 5 tikis

The Golden Tiki
3939 Spring Mountain Rd.
Las Vegas, NV 89102
702-222-3196
Tiki di Amore

Worthy of mention is Tiki di Amore, a mashup of an Italian restaurant and outdoor tiki bar lounge. While traditional tiki bars serve Polynesian Pop classics like the Pupu Platter or Chinese food, sometimes you just want to have a pizza or pasta—washed down with a Mai Tai. Tiki di Amore has plenty of food and drink specials, including $5 tiki drinks and half price on food during certain hours of the day (check their website for current specials). If you don't feel like gorging on plates of pasta with your tiki cocktails, you can order from a dozen different appetizers and snacks to compliment your Polynesian potions. Tiki tunes and live music add smooth, seductive sounds to the whole affair.
The décor of Tiki di Amore contains all the important elements of tiki regalia: bamboo, tiki idols, cozy furniture, moody lighting, and tons of bric-a-brac and tiki treasures everywhere. There's even a giant octopus wrapping its tentacles around the décor. Vegas likes to enshrine its past by rescuing mementos from the many old casinos and resorts which were put to the wrecking ball over the years. You can find some of these mementos here.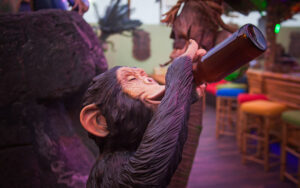 One such tiki totem treasure is an original carving from the mob-owned Stardust Casino's Aku Aku tiki bar, circa 1960. Carved by master craftsman Eli Hedley, one of the two Easter Island-style Moai tikis from the old Aku Aku lounge adorns the tiki bar at Tiki di Amore. Hedley is responsible for the design of Disney's Enchanted Tiki Room, among many others.
Plan your visit carefully, though. As an outdoor venue, Tiki di Amore operates seasonally, and is closed for the winter. Fortunately, Las Vegas is drenched in sunshine 9 months per year, so you're never too far away from a tiki escape in the great outdoors. Tiki di Amore is conveniently located near the Las Vegas Strip, which is technically located in the Vegas district of Paradise, Nevada.
Grab a Mai Tai or a Fog Cutter at Tiki di Amore, and you will literally be sipping umbrella drinks in Paradise.
Rating: 3 out of 5 tikis

Tiki di Amore
2850 E Tropicana Ave
Las Vegas, NV 89121
Red Dwarf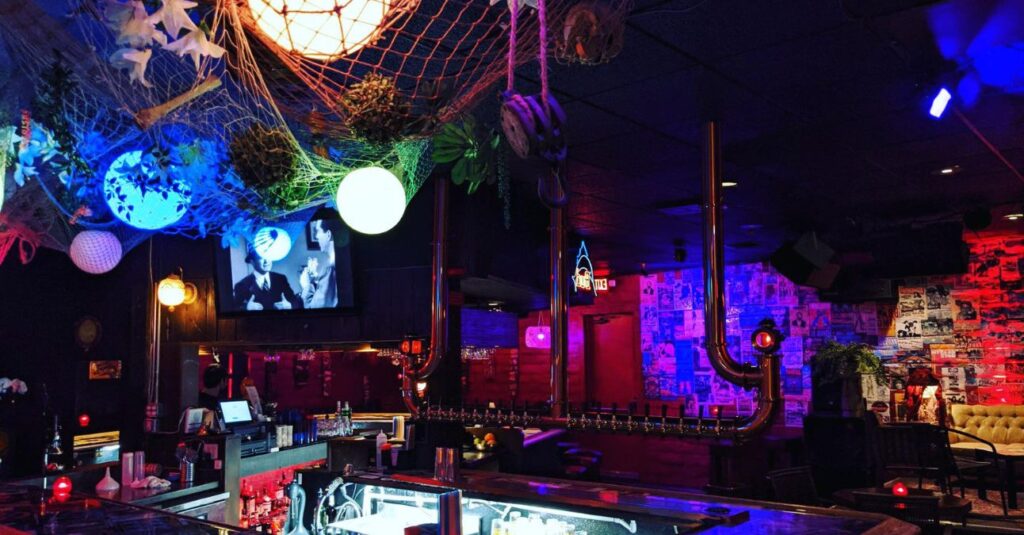 And now for something completely different. Red Dwarf bar has a simple marquee sign outside reading BOOZE MUSIC BEER PIZZA. Since we're fans of all these things, Red Dwarf deserves a mention. While it is not technically a tiki bar, you'll find plenty of tiki masks on the walls, bamboo/wood décor, and tropical trappings to help you escape the bustle of The Strip for an hour or more.
If that doesn't work, apply strong cocktails. Shake, drink, repeat. Sip classics like Mai Tai and Painkiller or try signature cocktails like Hawaiian Sunset and unpronounceable cocktails like Humuhumununkukuapua'a.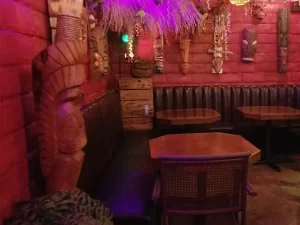 We've talked up tacos and tiki and pasta with your Polynesian potion. How about Detroit style pizza with your cocktails? Red Dwarf specializes in yet another style of pizza. What makes Detroit pizza different is the cheesy crust baked all the way to the edge and sauce stripes (called racing stripes by Motor Citizens) on the top of the pie.
Red Dwarf merges tiki, pizza, beer, music, and a rockabilly vibe and rolls it all up in one bombastic package. If the interior gets to be too much, step out on the veranda, and enter a deck lounge festooned with a veritable jungle of tropical plants and trees.
Rating: 2 out of 5 tikis

Red Dwarf
1305 Vegas Valley Dr.
Las Vegas, NV 89169
Island Time Floats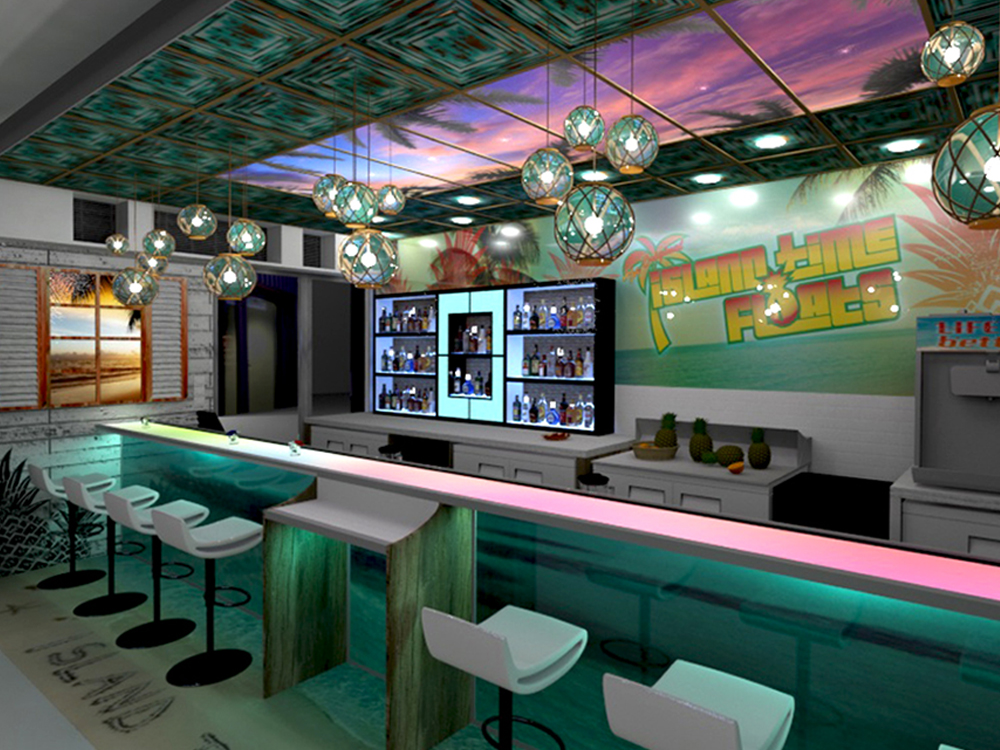 Tiki and tacos? Why not? Anything goes in Vegas and at Island Time Floats, your tiki goes with tacos. Technically, this bar is TINO (tiki in name only), meaning you won't find a lot of tropical pagan idolatry or timeless treasures adorning this place. Part taco truck and part cocktail dispensary, Island Time Floats is located right on the Las Vegas Strip, directly across from the famous Bellagio Fountain.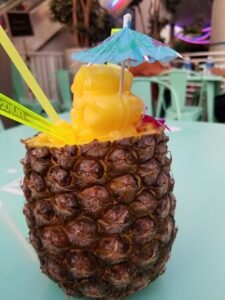 Slurp a gooey blender drink served in a pineapple while you while away the long summer nights in Vegas. The joint is decorated with large, backlit images of Hawaiian surf and turf. Colorful glass fishing floats hang from netting over the bar. Just add steak and shrimp street tacos for some island surf and turf in the middle of the Nevada desert.
Island Time Floats features lots of images of pineapples, which is fitting, since they serve everything from tacos to nachos inside of half a pineapple. They feature indoor and outdoor seating for all weather access to the pseudo-beach. Most of their drinks are of the beach bar variety (sex on the beach, margarita, etc), but hey, did we mention that they serve cocktails and food out of fresh pineapples?
Rating: 1 out of 5 tikis

Island Time Floats
3641 S Las Vegas Blvd Ste 312
Las Vegas, NV 89109
Pearly Shells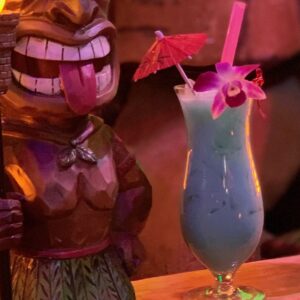 Whether you're a die-hard tiki aficionado or a newbie to the whole Polynesian Pop scene, you'll love these tiki bars and restaurants in Las Vegas. Dive into a tropical adventure in mock paradise. Dig deep for buried treasure in lush jungles or on pirate islands of fantasy while you sip the finest concoctions from rum and other nectars of the gods.
Las Vegas isn't just about gambling; there are many attractions and distractions awaiting you on your trip. Some of the tiki bars above may have slot machines or video poker rig just in case you want to mix Mai Tais, tacos, pizza, and gambling.
You might discover the vibrant subculture of Polynesian Pop and become enchanted by tropical tunes, exotic elixirs, and the perfect island escape—in the desert sands and neon jungles of Las Vegas.
The post Desert Oasis: Tiki Bars in Las Vegas appeared first on Planet 7 Casino.
#Desert #Oasis #Tiki #Bars #Las #Vegas